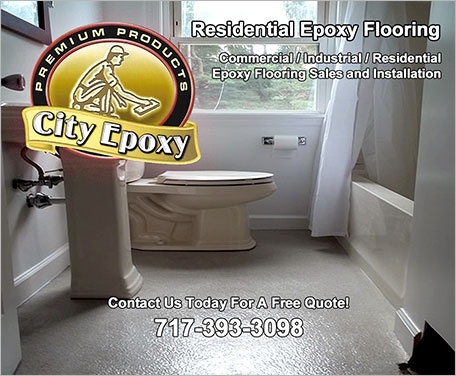 Residential Epoxy Flooring
Customers are always looking for alternatives for flooring, each room has its own character and the flooring is a main part. City Epoxy offers an alternative. Our Premium Resin Rich Epoxy Products allow us to go over most all substrates. So regardless if it's concrete, wood, ceramic, stone, vinyl, tile, or laminate City Epoxy has an alternative.
Our customers have used our products on floors, showers, bathrooms, laundry rooms, kitchens, garages, counter tops, pool areas, pool decking, tub and shower repair, bar tops, basements and truck beds for customers looking for an alternative.
For the customer that wants a classier looking floor City Epoxy offers boarders, inlays, cove base and custom color combinations. So if you're looking for an alternative flooring for your family and pets or just want a easy to clean, long lasting, slip resistant and durable floor. City Epoxy Premium Resin Rich Epoxy Products can help.
---
Marina Epoxy Flooring
Commercial fishing and shipping industries require the crew to live on the ship for weeks even months at a time. City Epoxy Products were developed in the 70′s for the military, to be used on coast guard and navy ships. Today that same product is being used in the galleries, passage ways, heads, berthing areas and showers on commercial fishing boats, commercial barge ships, pleasure boats, and luxury yachts. Epoxy flooring for ships must flex, City Epoxy products are designed to flex. Our underlayment system along with our epoxy flooring and sealer provide a durable, slip resistant, low maintenance floor that has proven it works over time, that's why they still use it.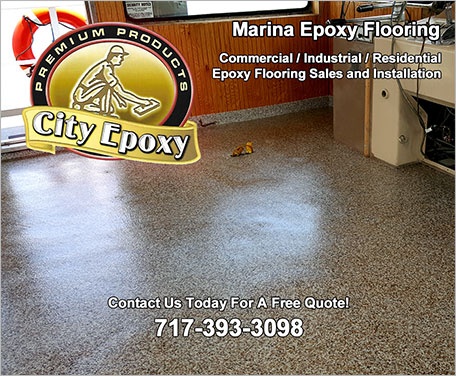 ---
Commercial Epoxy Flooring
When a hospital, institute of learning, restaurant or any type of business are forced to replace or install new flooring due to wear and tear, remodel or just a new floor they will have many options, from carpet to tile and wood to epoxy. At City Epoxy we understand that. Our Premium Resin Rich Epoxy Products are formulated to adhere to many substrates eliminating long rip outs and demolition time. At City Epoxy our installation crews work to get the job complete, so that your daily operation can return to normal.
City Epoxy products are designed for easy maintenance. Bathroom and shower areas in the commercial market are the most common areas where we install our Premium Resin Rich Epoxy Products, WHY! To eliminate the urine smell from the restrooms, to have a cleaner shower area that is slip resistant. City Epoxy seamless floors allow no penetration, all dirt lies on the top of the epoxy sealer.
Regardless of the business, if you're looking for an easy to clean, low VOC, durable, slip resistant epoxy flooring Product City Epoxy can help.
We serve across Lancaster, Harrisburg, Reading, York, Hershey, Allentown, Williamsport, Edison, Pennsylvania, Towson, Elkton, Maryland.