Busted! Don't Believe This Epoxy Flooring Myth!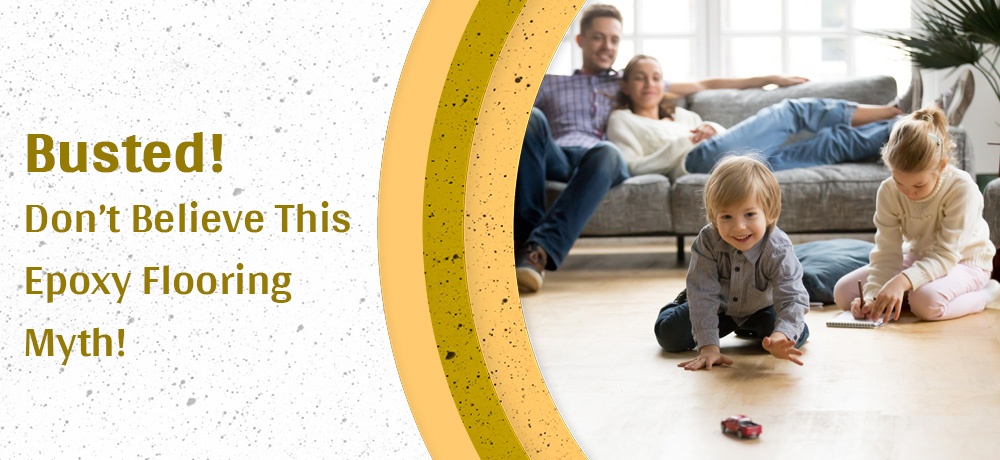 Epoxy flooring is growing in popularity with both residential and commercial owners. This is because epoxy is a very versatile coating. There are no limits to what you can do with epoxy on concrete surfaces. In terms of design, there are so many options available. Similarly, epoxy can be applied anywhere from kitchens to garages and even commercial spaces.
As epoxy can be used for various industries, locations, and buildings and is no longer just for manufacturers and warehouses, there are many more misconceptions about epoxy floorings going around the internet. Believing in these myths and misconceptions you find online can hamper your flooring decision and your renovation budgeting. To help you steer clear of these issues, City Epoxy LLC. has debunked the most widely believed myth about epoxy flooring.
Myth: All Epoxy floors are the same
Now you may be aware of the typical epoxy floors that are used in garages. These epoxy floor coatings are usually made up of two-parts, solid-based, solvent-based, or water-based. It consists of a resin part and a hardener part. High-quality epoxy floor coatings are neither one part oil-based nor water-based. These coating will adhere to your garage floor or concrete floors way better than any conventional oil-based, water, or enamel paint. From functionality to aesthetics, epoxy floorings have several advantages. It is quick and easy to install, and with regular maintenance, your floors will stay as good as new for a long time.
However, all epoxy floors are not the same. We know that epoxy has long since been the best solution for durable garage flooring. But you can also use epoxy inside your home. It is easier to apply, maintain, and has impressive results in kitchens, basements, and even driveways. There are different epoxy floors for various applications, and not all types of epoxy are appropriate for all floors. There are different types of epoxy floorings and different ways to install them. Some types of epoxy are more adapted to a particular space than another.
Quartz flooring is a 100% solid, two-component double-cast epoxy system that uses a decorative colored quartz aggregate and is sealed with a protective topcoat. You also have your metallic floor coating that is a100% solid two-component custom flooring system specially formulated with a pearlescent metallic pigment that is not only cost-effective but has ultra-strength.
Full flake floors are another option that many say looks like granite or stone, making the color of your coating irrelevant and giving your floor a more industrial look. Finally, you have overlays, ironclads, and MMA's, which are all very versatile, cost-effective, and durable and can be designed in a way that suits your aesthetic or function.
Irrespective of the type of epoxy floors you choose, you'll notice that modern epoxy coatings offer a range of finishes, from high-gloss to non-slip textured finishes. There are a variety of colors, not to mention effects like pearl, marble, metallic, quartz, and full flakes that can make your flooring look incredible. With such a broad spectrum to choose from, modern epoxy floors can make a beautiful statement throughout your home, as well as in retail stores, schools, etc. Similarly, In terms of lifespan for investment, epoxy flooring is one of the most economical solutions you can go with.
If you're looking to steer clear of more myths related to epoxy flooring, reach out to City Epoxy LLC. As the best epoxy flooring contractor in Lancaster, PA, we can help you figure out how to make epoxy work for you. We have been installing premium epoxy flooring products throughout the U.S. on various substrates and applications. Our mission is to provide the highest quality materials, experienced installers, and a floor that will last. Our clients have ranged from animal shelters to VA (Veterans Association) Hospitals, all with one thing in common, a need for long-lasting, slip-resistant, waterproof, low VOC, and stunning floors. We believe that we have a floor for everybody's budget and style. We offer residential epoxy flooring, marina epoxy flooring, and commercial epoxy flooring across Lancaster, Harrisburg, Reading, York, Hershey, Allentown, Williamsport, Edison, Pennsylvania, Towson, Elkton, Maryland.
For a complete list of our services, please click here. If you have any questions about epoxy, we'd love to hear from you. Please contact us here.
---
---