Top Four Things To Look For When Hiring An Epoxy Flooring Contractor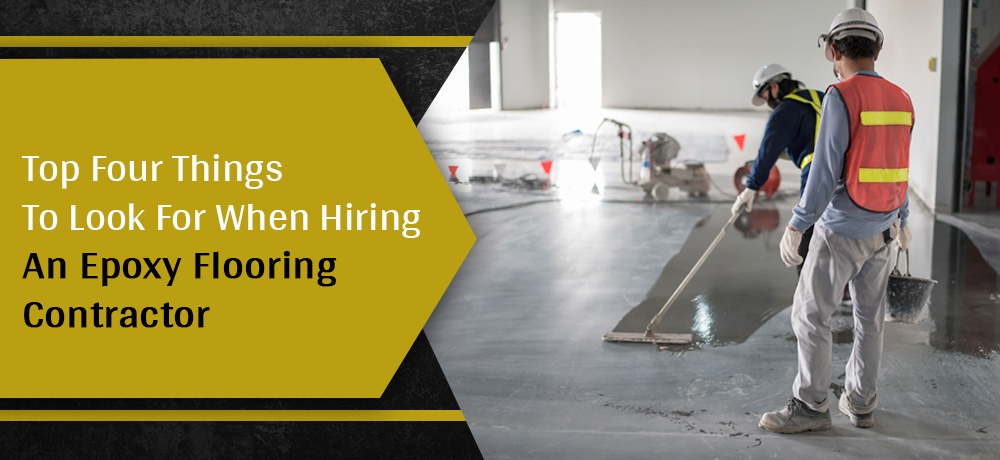 Numerous residential and commercial flooring installations call for the use of epoxy flooring in construction projects today. Epoxy coating your garage or kitchen floors can add the functionality of non-slip qualities and lengthen the lifespan of your flooring by years. Commercially, epoxy flooring is widely used as chemically hardened epoxy flooring can withstand greater wear-and-tear and will retain a visually pleasing, professional appearance longer than conventional flooring.
When deciding on flooring solutions, one of the first steps is the crucial decision on hiring a professional or attempting to do-it-yourself. While there are many epoxy flooring kits available online, epoxy flooring installation can be tricky from the word-go. Preparing a site to be epoxied is a complex procedure that should be done with care. However, even after careful preparation, misapplied epoxy flooring can develop ripples or visible imperfections that can be impossible to reverse. Hiring a professional epoxy flooring contractor would certainly help avoid these pitfalls and ensure your epoxy flooring looks it's best for years to come.
An epoxy flooring contractor is an industry professional who, through training and experience, creates flawless, long-lasting, epoxy coated floors. If you are looking for epoxy flooring solutions, here's a list of the top four things to look for when hiring an epoxy flooring contractor.
1. Training and knowledge
Epoxy flooring can be complicated and have different specifications like inlaid logos or textured finishes. A professional epoxy flooring contractor will employ trained individuals to ensure that no matter the complexity of the job, the finished product meets the standards set by the company and exceeds the expectations of valuable clients.
2. Experience
A flooring contractor experienced in a variety of epoxy flooring applications will be ready to handle unforeseen complications should they arise. For example, in moisture heavy areas like underground basements, special dehumidification procedures are necessary to avoid delamination. An experienced epoxy flooring contractor will foresee the humidity problems and take the required precautions to ensure a high quality finished product.
3. Competent personnel
As in most industries, the quality of the final product depends on the entire procedure running smoothly. To ensure the whole process of preparation and application of epoxy flooring meets project deadlines and follows the right steps, it is important to hire a contractor with competent, conscientious, and reliable personnel. Doing this will ensure superior quality floors that will impress and last for a long period of time.
4. References and reviews
In the field of epoxy flooring contractors, the available options are numerous. There are epoxy flooring specialists with years of experience, some fairly new with brilliant skills, and others who claim to be specialists but lack results. For your flooring project to be a massive success, it's essential to choose a professional capable of meeting your expectations. Checking the references and reviews of the contractor will give you an idea of what kind of experience they have as well as the level of expertise and quality you can expect.
If you are looking for an epoxy flooring contractor in Lancaster, PA, reach out to City Epoxy LLC. We have been installing premium epoxy flooring products throughout the U.S. on various substrates since 2005. Our mission is to provide the highest quality materials, experienced installers, and a floor that will last. We serve clients across Lancaster, Harrisburg, Reading, York, Hershey, Allentown, Williamsport, Edison, Pennsylvania, Towson, Elkton, Maryland.
To learn more about the services we offer, please click here. To get in touch with us, please click here.
---
---